Privacy Policy
This privacy policy sets out how Aluminati use your personal data for the purposes of account administration, operation and billing.
Role in Data Processing
All personal data is handled in accordance with the GDPR 2018,
Aluminati is the Data Controller for your personal data held for the purposes of account administration, billing, and the storage and management of your email data stored on the servers; 
Lawful Basis for Processing
Aluminati processes data in order to perform its service contracts with you, to provide you with services during the registration/unpaid trial phase and to provide you with further services in the subscription phase.
By registering for this service, you are explicitly consenting to Aluminati:
Collecting the information you provide to us via the Service registration form
Storing information that you generate during the normal use of the service. This includes, but is not limited to, emails that you send and receive, address book data and general preferences. Any correspondence between you and Aluminati in relation to the service is archived for future reference.
Purpose & Use of Information
Aluminati will process your information for such purposes as (but not exclusive to);
Providing the normal operations and maintenance of the service
Communicating announcements informing members of important information regarding the service
Verifying your University Membership (via your oxon.org address) in order to provide you with the service
Verifying your security information (e.g. to respond to support requests)
Internal statistical analysis
While Aluminati keep records of financial transactions for accounting purposes, debit / credit card details are NOT recorded, nor ever seen, by us in the case of an online payment being made. All such information is via by our 3rd party online transaction handler and we refer you to their own privacy policies.
The service operates on a strictly opt-in basis and will be accessible only to other users of the Service.
Use of Cookies - these are temporary small files that reside on your system and are read by our website and webmail interface so as to enhance your experience. These are stored in your own browser. You may delete these cookies at any time, although they must not be blocked entirely if you wish to use the service's web facilities (registration, webmail etc).
Retention
Aluminati will retain some aspects of your personal data (e.g. billing records) for up to 6 completed tax years for compliance and good practice in accordance with HMRC accounting records guidance.
Other aspects of your personal data will be retained until you (the data subject) reasonably asks that your records be deleted. 
Data Transfer
Aluminati will not process or transfer any of your personal data outside of EEA countries not subject to the GDPR. Naturally should you access the service whilst outside of the EU, the transfer of your data to your device in that location will be considered implicitly authorised by you. Messages sent via the service to other users or people who are outisde the EEA are similarly considered explicitly authorised by you. 
Storage
Your information is stored in a password protected database which is never accessible by the public or any non-authorised employee of Aluminati. Authentication information, such as passwords and security answers, is encrypted.
Disclosure
Aluminati will not disclose your personal data to any third party other than:-
with your consent; and/or
in accordance with these conditions; and/or
or the purpose of properly administering your account; and/or
in order to process and verify an online payment; and/or
if required to do so by law; and/or
where requested to do so by the police or other regulatory authority; and/or
in the good faith belief that any disclosure is reasonably necessary to:-

enforce these conditions; and/or
respond to any complaint concerning or connected with your use of the Service; and/or
to protect the rights, property or personal safety of Aluminati, the University, the registered users of the Service and the public.
Your email address will not be given to any 3rd party for the purposes of advertising or promotions, without your consent. 
Accuracy & Access
You may:
Email Aluminati for a copy of your stored details and/or inform them of any changes that need to be made
Access and update your profile data via an online profile interface (My Account).
Aluminati will require that you suitably identify yourself before accessing your information.
There is no charge applied for the supply of this information.
Aluminati will refuse access for the following reasons:
The request does not relate to the information belonging to the person making the request.
Insufficient identification is produced.
Denial of access is required by law.
Providing access would pose a serious threat to the life or health of an individual or individuals.
The information provided for modification is reasonably believed to be false.
Providing access would interfere with any legal proceedings or negotiations relating to the individual.
Disclaimer
Aluminati does not accept any responsibility for other websites or activities undertaken through them and you are advised to read the privacy policies on those sites.
In the event that you are directed to a secure server while using the Service, for example in the case of making an online payment, it is your responsibility to check that the web site is authentic by verifying the URL as correct. You should also check to ensure the web site is secured by looking for the 'padlock' symbol or an URL beginning with "https://". In the event of any uncertainty please contact Aluminati before proceeding.
Aluminati does not accept any responsibility for any breach of privacy resulting from a member's compromised computer system or security information where the breach did not occur as a result of an action or inaction by Aluminati.  This includes, but is not limited to, the case of a password being stolen and used to access the member's profile or email account for purposes including sabotage and data theft.
Supervisory Authority Registration
Aluminati is registered with the Information Commissioner under membership number Z8393842.
Complaints Procedure
If, for any reason, you feel the need to complain or comment about these privacy practices or policies please contact Aluminati using the details provided below so that we may resolve the situation.
Service Provider Contact
Privacy Enquiries
Aluminati Network Group Ltd.
Hyperion House (Top Floor)
The Oaks, Fordham Road
Newmarket
Suffolk. CB8 7XN
England
Email: privacy@aluminati.net
Fax: +44 (0)1638 676 232
Service News
Updated 3 days ago
Scam email warning [Update 05/09/2019]
13:14 on 20th Aug
UPDATE 05/09/2019
The have been reports of another phishing attempt claiming to upgrade your account with extra space. We currently updating our spam filters accordingly.
Please do not click the link in this email.
If you haven't followed any instructions in the email, you can safely disregard and delete. If you have however, we recommend
resetting your password
and contacting our helpdesk team at
help@aluminati.net
Scroll down to see a copy of this email (#5)
_______________________________
UPDATE 29/08/19
Users have reported another phishing email that was sent out today (29/08/2019) Please disregard and delete this email. We have pasted an example of this at the bottom of the update (example #4).
The Link in the email is not the cantab.net website, so please Do not click this link!
If you have clicked the link, please reset your password immediately and perform a full virus scan on your computer. If you have any concerns, please email our helpdesk at help@aluminati.net
_______________________________
From time to time, email services may be targeted by spammers and scammers. As a precaution, we will like to address a few things, as well as providing some tips for identifying spam/scam emails. We have also pasted a few examples at the bottom of this service update. 
Points to consider:
We will NEVER threaten to close your account. An account will only be closed at the request of its owner. 
We will NEVER withhold any emails from you
If your account is already created, we will NEVER ask you to login by clicking a link
NEVER click on any link in an email if you are not sure of its source. 
If you have clicked in any links in a scam email, or followed instructions in any such email, the security of your account may have been compromised, so you should reset your email password immediately
Types of Spam/scam emails
Spam emails either try to scare, threaten or confuse you into clicking a link within the email or to try to blackmail you on baseless claims
They come up with the most creative ways in order to do this, you'll be surprised 
This can include posing as a big company such as Microsoft, Amazon or Apple, even smaller companies. These type of scams are called phishing emails
They can also pose as your email account provider (such as us), claiming you need to "Action your account" in some way
Their end goal is either to trick you into entering your username/password or other personal details somewhere as well as trying to trick you into paying money to them
Useful tips in spotting a scam email
Should I open the email? - Opening an email is not dangerous in itself, they won't be able to harm your computer without first getting you to follow their ploy first. However opening emails can let the sender know that it is an actively used account, which they could use to either sell to other spammers or use themselves. So we do suggest not opening emails you are unsure about. However please do not worry if you accidently have.
Check the email address it was sent from - If it's coming from a very strange address or is completely different from what it is claiming to be, high chances it is spam. However there are ways addresses to be spoofed, or masked as something else, you can read more about spoofing on the following page here: https://www.wikihow.com/Identify-Email-Spoofing
What do they want from you? - If they are asking you to enter your personal details by following a link, requesting your details by logging in, or blackmailing you because they have something to hold against you, chances are they are baseless claims you can safely ignore. Real companies will never ask you for account or personal details without reason, as they control you accounts anyway and have no need to ask you. Please note however, if you are in direct contact with a company, they may ask for some security details in order verify you are the owner of the account. This is so they know they are talking to the owner of the account and not someone trying to gain unauthorised access. This is standard practice with recovering an account, so if you are unsure, please go directly to the companies website and contact them from there, companies will rarely contact you first.
Where do the links go? - Links are what the scammer wants you to click. They will either direct you to page they are in complete control of so they can try to get personal details from you or it will download a virus to your computer. Links can be deceiving! A common feature of links is to replace the actual text of the link, so this link: https://www.wikihow.com/Identify-Email-Spoofing and This Text is in fact the same link. Scammers use this to mask where the link will really take you. You can check a links address without clicking them by hovering over them with your mouse, this will show the real link on the bottom left of most browsers. This is a good way to check where the link really goes, if it something completely different to what it is claiming, chances are it may be a scam.
What to do with a spam email
Delete and blacklist! - If you are happy that the email in question is indeed spam, feel free to delete it and add the address to your blacklist
Run regular virus scans - This is just a sensible precaution for using computers in general.
Never open or download attachments unless you know what they are - If you don't know the sender or otherwise feel like an email may be spam, do not open any attachments. This is the quickest way to infected by a virus. If you must open the attachments, right click on them first, then select scan for viruses or scan before opening
Worried about your account? - If the email is directed towards an account you own and you would like to check up on it. Don't follow any links in the email, simply find the companies website by using your trusted search engine, such as Google to find the real companies website and login to your account from there. Any claims the emails had, if legitimate, should be reflected here once you have logged on.
Still concerned? - Remember 99% of scam emails hold no power over you, unless you follow their instructions. If you are still concerned or you are worried about someone blackmailing you, you can always forward us the message and we will be happy to take a look ourselves. If you do not want to open the email, simply select the email and then forward it on. This won't open up the message.
Examples
_______________________________
#1
Dear Mail User,  
Our record shows that your Mailbox is Out-dated which has caused some incoming mails to be placed on pending.
Kindly click 
UPDATE
your Mailbox in order to receive new mails.
You can also accept to our new terms of service and private policy by clicking 
Here
We apologies for any inconvenience this might cause.
Best Regard,
_______________________________
#2



To keep your Email account safe, we recommend you add a recovery mobile number.

This is our new security measure.

Email: (your email address)
Password: ******* (Hidden for safety)
Recovery No: none yet
However, if you do not add your NUMBER, Your account will be
de-activated shortly and all your email data will be lost permanently.

Regards.
Email Administrator
_______________________________
#3
Dear (you), 

Thank you, we received your Email account de-activation request and this request will be processed before 24 hrs.

If this request was made accidentally and you have no knowledge of it, you are advised to cancel the request now
                    CANCEL DE-ACTIVATION 
However, if you do not cancel this request,your account will be shutdown shortly, 
and all your email data will be lost permanently. 

Thanks.
Email Administrator 2019 Team.
_______________________________
#4
Dear Customer ,

You can not send or receive new files until you re-validate your account.
To renew, please click below.

https://www.cantab.net/login

Thank you.

Mail administrator!
_______________________________
#5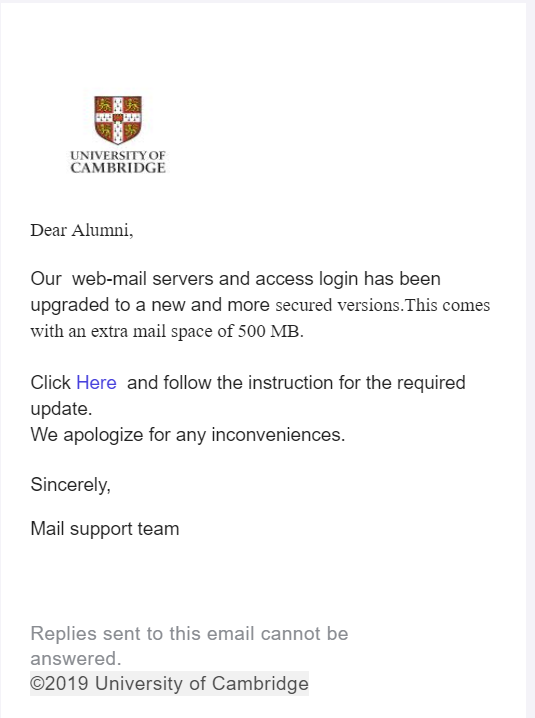 Server Maintenance 18th June 07:00 BST
12:11 on 12th Jun
We have been informed by our data centre that they will be preforming some power tests on the 18th June 07:00 BST for approximately four hours. During this time there is a risk of our service going down on all platforms. We are currently taking measures to for this scenario.