How can we help you?
How do I renew my existing subscription?
From 28 days before your account renewal date, you will start receiving reminder emails. Once you have received these, you can subscribe for another full year. If you upgrade beforehand, your subscription will be prorated until your fixed renewal date.
To renew your Account, log in and go to the My Account dashboard. If you are logged in to your webmail inbox, you can access My Account by clicking on the button in the top right of the page.
On the My Account page, you will be able to click on Email Accounts on the left. This will show you all the email accounts you currently own. If any of your Email Accounts are due for renewal, a yellow Renew button will be shown. You can click this button to renew the subscription on your Account.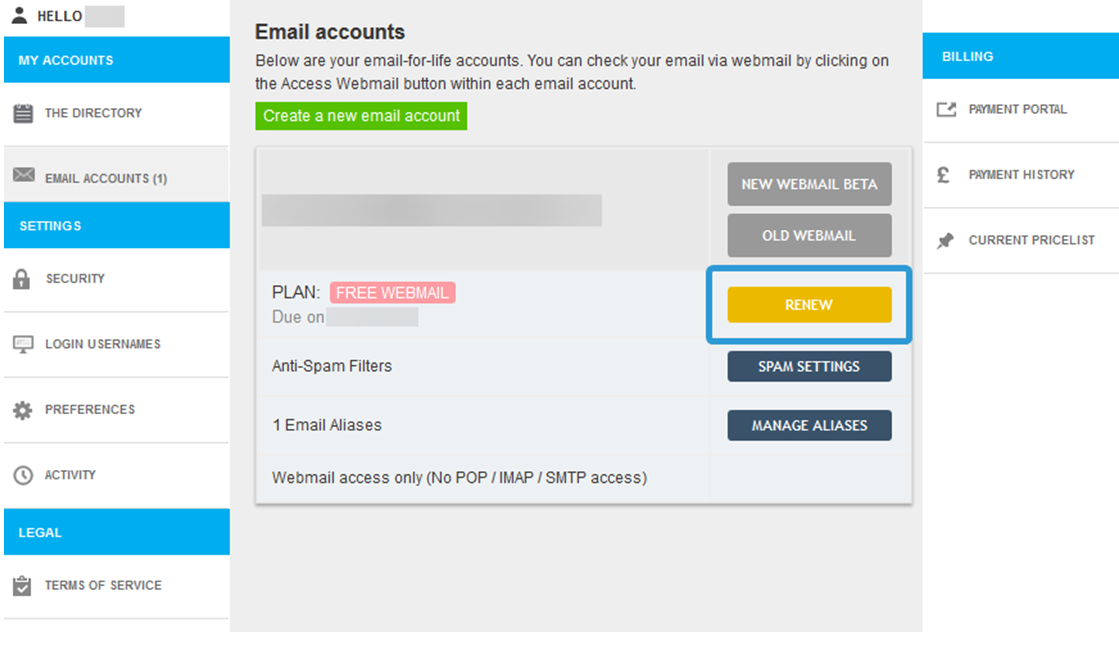 You will be presented with a range of Packages and Bolt-Ons that you can add to your Account. Your current subscription will already be selected, or you can switch to a different Package by clicking Select. You can also choose any Bolt-Ons by clicking Add.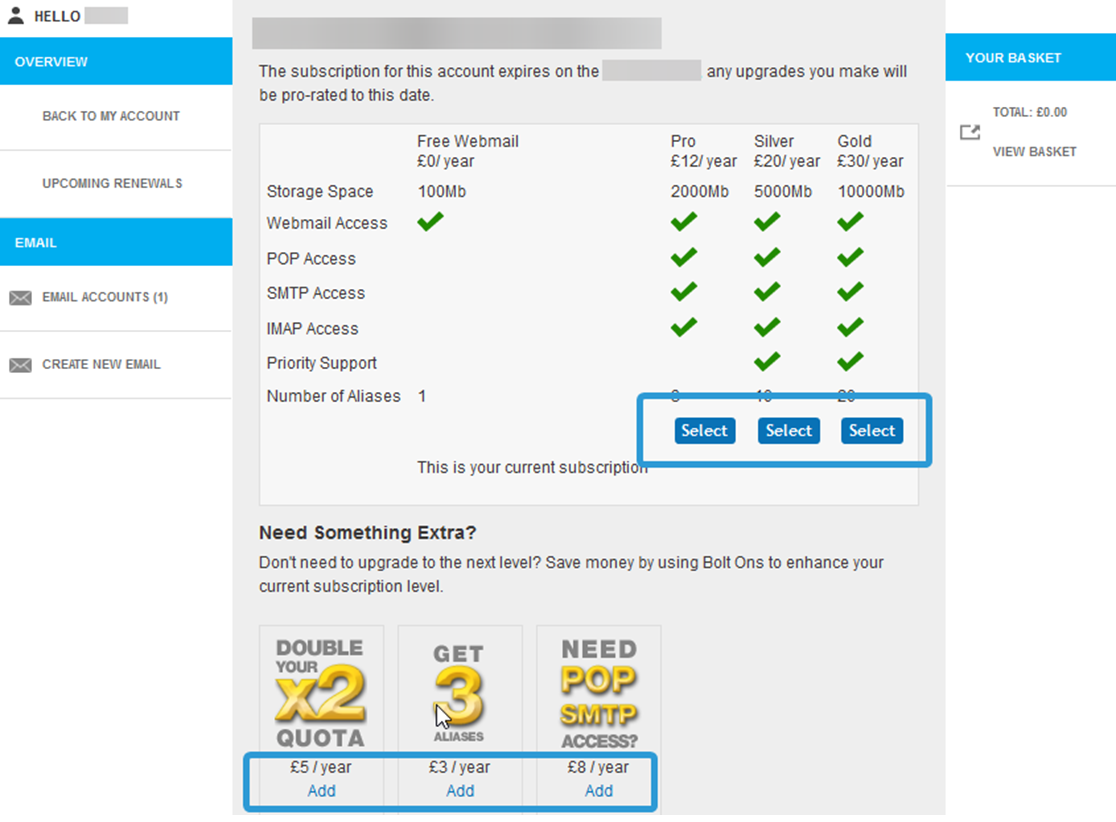 Once selected, the Packages and Bolt-Ons will be added to your Basket. You can click on Basket or Checkout to view details of the upgrades you have selected and continue with upgrading your Account.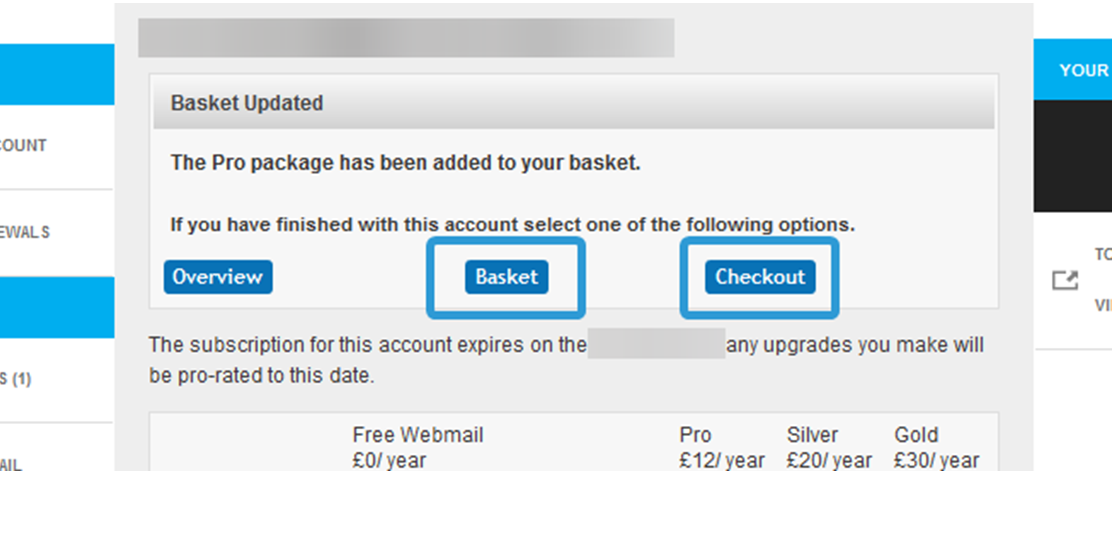 Your Basket will show all the Packages and Bolt-Ons you have selected, and show the total amount due for the upgrade. This is calculated on pro rata basis to match your renewal date. Click on Proceed to Payment if you wish to continue with your upgrade. Alternatively, you can click Empty to clear your basket or remove any items in your basket using the small red cross next to the item.
After clicking Proceed to Payment, you will be asked to pick your Country of Residence from the Dropdown. After you have done this, click Confirm Country of Residence to continue.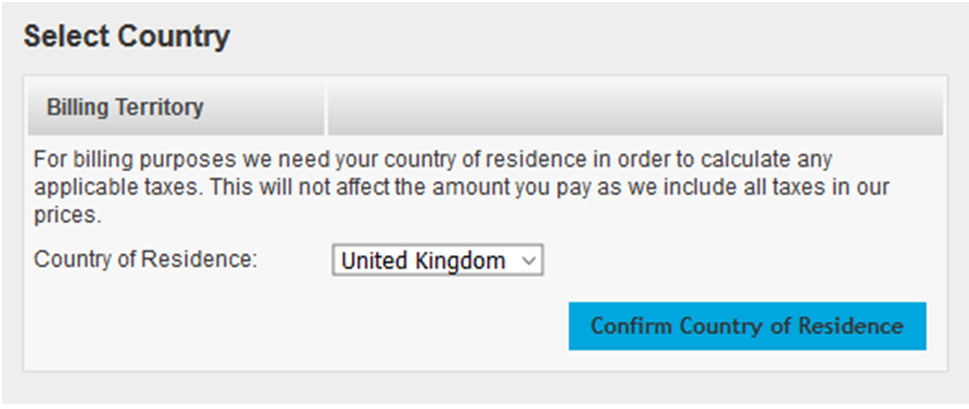 You will be asked to select your payment method on the next page. Choose between Card (via SagePay), Cheque (by post) or set up a Direct Debit (via GoCardless).
CARD
Paying by a Debit or Credit card allow you to pay once up to your next renewal date using SagePay.
If it is your first time choosing the card option, you will be asked to fill in your billing details and other relevant information before clicking Proceed at the bottom.
This will then take you through to enter your card details via SagePay.
Otherwise, you can click Use next to an existing card shown at the top.
DIRECT DEBIT
Selecting a Direct Debit subscription allows you to set up a recurring payment for your account, which will be taken yearly on the renewal date for your email account. The Direct Debit service for our accounts is provided by GoCardless.
After selecting Direct Debit, you will be taken to the GoCardless Direct Debit form to set up a recurring payment.
Once completed, it usually takes around four days for payments to be confirmed, though your account will be upgraded immediately.
Should there be any problems with the payment you will be notified and your subscription will be reverted.
CHEQUE
If you select cheque, the system will provide you with details of where to send the cheque, for what amount, and give you the order number to write on the back of the cheque.
Please ensure that all cheques are made out to Aluminati Network Group.
If you have any questions about renewing your subscription, please contact our helpdesk at help@aluminati.net
Service News
Updated 230 days ago
Server Maintenance 18th June 07:00 BST
12:11 on 12th Jun
We have been informed by our data centre that they will be preforming some power tests on the 18th June 07:00 BST for approximately four hours. During this time there is a risk of our service going down on all platforms. We are currently taking measures to for this scenario.
Server Maintenance - Wed March 13 to Fri March 22
10:25 on 12th Mar
Dear members,
We will be performing maintenance on the servers between Wednesday March 13th and Friday March 22.
Services should remain available during this time, however, there may be a few moments of disruption as servers are taken offline and services fail over.