How can we help you?
How do I use multiple identities?
Multiple identities are a way to configure your account to send from the Email Aliases you have set up on your Account. For more details on setting up Aliases, please see our help guide here.
To set up Multiple Identities on your account, follow the steps below depending on which version of webmail you are using:
New Webmail
If using New Webmail, any time you add an Alias to your Account, it will automatically be set up as a new Identity. You can check and edit your Identities by following the steps below:
Go to Settings found in the top right hand of the screen.
Go to the Identities section.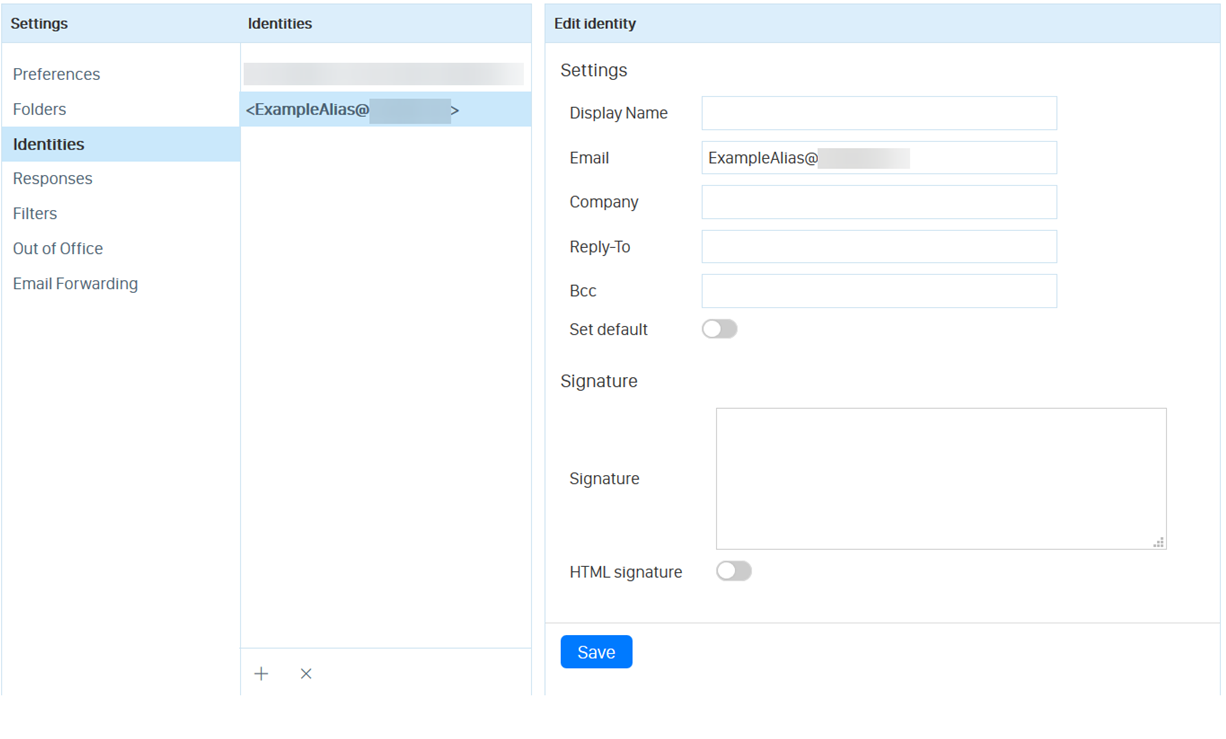 Click on the Email Address you wish to update. This will show the settings that you can edit to set up your Identity.
Old Webmail
If using the Old Webmail interface, to set up a forwarding address, first go to your Webmail Inbox and then click OPTIONS at the top of the page.

Go to the Personal Information section. If you do not have the advanced options page showing, you can switch to this at the top of the page.
Click on Edit Advanced Identities under the Name and Address Options section.
Here you can add, edit or delete your identities. You can add as many as you want. If you have a nickname set up on your account already, you can set up an identity to send from that nickname.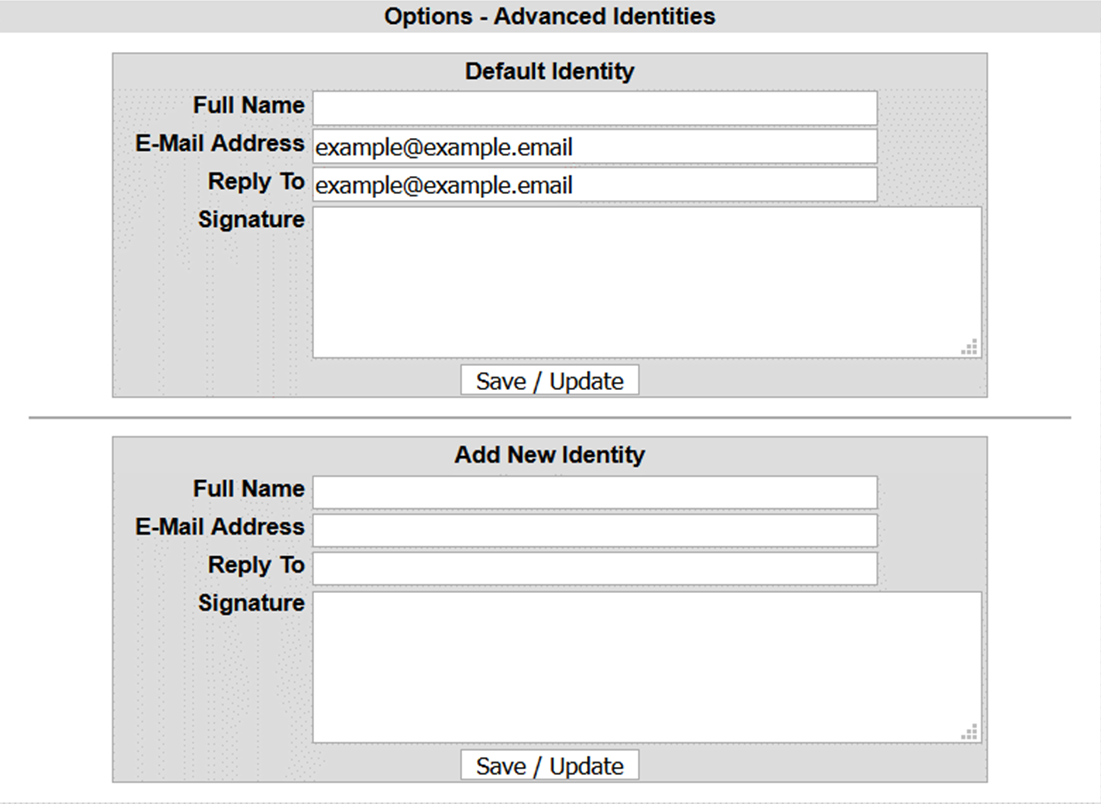 Full Name: Enter the name that you wish to appear in your Emails.
E-Mail Address: Enter your Email address or one of your Alias Addresses. This email address MUST ALREADY EXIST. If you send an email from one that does not exist, any replies to it will either bounce back to the sender or be lost.
Reply To: If you wish Email responses to go to another address, enter it in this field.
Signature: You can set a Signature to appear at the bottom of your Emails in this field. Different Identities can have different signatures.
When you are finished, just click any one of the Save/Update boxes. It will save all of the changes you have made.
To use one of your Identities when sending an Email, simply go to Compose a new message. You will see that the From box at the top will have a dropdown. This will allow you to select which Identity to send from.
When you reply to an email sent to that address, the system will intelligently ensure that you respond using the correct address.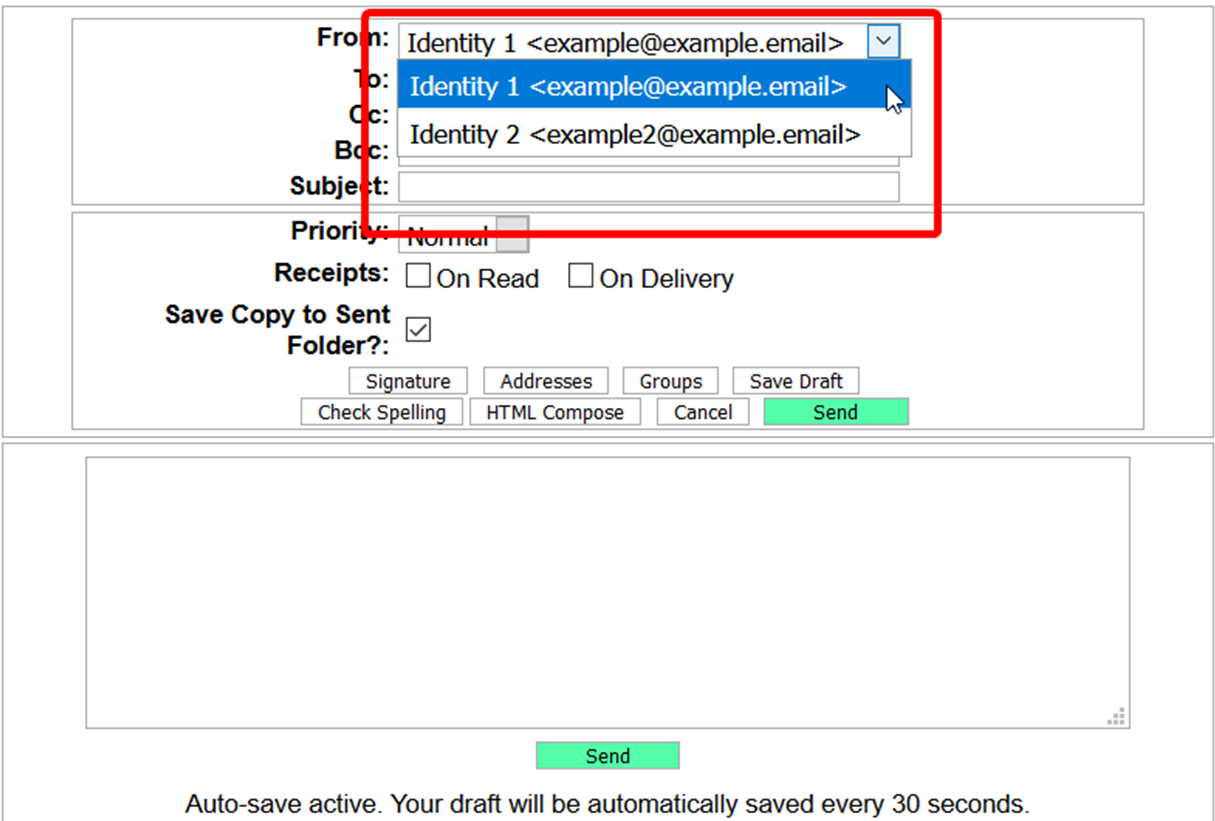 If you have any issues setting up an Identity, please contact our helpdesk at help@aluminati.net
Service News
Updated 230 days ago
Server Maintenance 18th June 07:00 BST
12:11 on 12th Jun
We have been informed by our data centre that they will be preforming some power tests on the 18th June 07:00 BST for approximately four hours. During this time there is a risk of our service going down on all platforms. We are currently taking measures to for this scenario.
Server Maintenance - Wed March 13 to Fri March 22
10:25 on 12th Mar
Dear members,
We will be performing maintenance on the servers between Wednesday March 13th and Friday March 22.
Services should remain available during this time, however, there may be a few moments of disruption as servers are taken offline and services fail over.